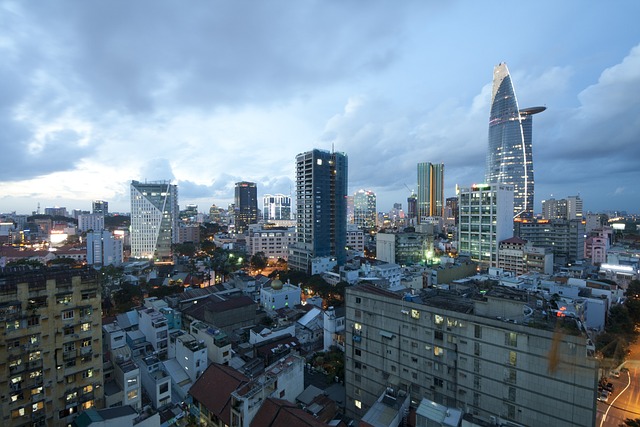 ASEAN's Commitment to a Green Future
At the 43rd summit of the Association of Southeast Asian Nations (ASEAN) in September, leaders emphasized the importance of accelerating a just and inclusive energy transition. This move aimed to position ASEAN as a central player in Asia's economic growth.
This statement reflects the commitment of ASEAN member countries to drive the shift toward low-carbon practices in pursuit of eco-friendly development. Notably, energy-intensive nations within ASEAN, such as Indonesia and Vietnam, have made "carbon neutrality" pledges and substantially increased the use of renewable energy in their national power strategies.
However, executing this transition poses significant challenges. The widespread adoption of renewable energy sources demands substantial investments, and these projects often face obstacles, especially in ASEAN and other developing nations. Private investors show limited enthusiasm, and initiating projects becomes quite a challenge.
The latest World Energy Investment report from the International Energy Agency (IEA) predicts that global energy-related investment will reach $2.8 trillion this year. More than half of this amount will be directed toward clean-energy technologies, encompassing electric vehicles, renewable energy facilities, and energy storage. Yet, this clean-energy investment predominantly concentrates on a handful of countries and regions, namely China, the European Union, the United States, and Japan. Remarkably, more than 90% of the increase in such investment since 2021 has occurred in advanced economies and China.
Meeting Climate Goals With Private Investment
Private investment is vital to achieve the demanding climate targets set by the Paris Agreement. The power sector, a major source of carbon emissions, plays a crucial role in these goals. To meet the International Energy Agency's (IEA) 2030 target of reducing annual energy-related CO2 emissions to 21.1 billion tonnes, a 38% drop from 2020 levels, the power sector must contribute 60% of this reduction. However, in 2022, CO2 emissions from this sector hit a record high of 14.6 billion tonnes, up 1.8% from 2021.
This underscores the urgency to increase investments in clean energy and accelerate the transition away from traditional fossil fuels. In 2022, global investments in the energy transition reached $1.1 trillion, matching fossil energy investments for the first time. Renewable energy saw the most significant growth, but annual investment must reach $4.55 trillion by 2030 to meet the net-zero emissions target by 2050.
Developing countries, including ASEAN members, are pivotal in this transition, with over 80% of energy-transition investments in 2022 concentrated in select countries. To meet the Paris Agreement's 1.5°C target, the International Renewable Energy Agency (IRENA) estimates an annual investment of around $45.8 billion through 2030, surpassing the public sector's capacity.
Public debt has risen in the ASEAN region due to COVID-19-related relief measures, making it harder to allocate funds for clean-energy investments. In this context, private investment becomes critical, with over 70% of the energy-transition investments in ASEAN over the next decade expected to come from private sources.
Renewable energy projects in ASEAN face numerous challenges. While wind and solar power costs have dropped significantly due to technological advancements, and often compete with coal power, the region still struggles to attract private investment.
Despite having ample renewable energy resources, attracting investors remains a challenge in ASEAN. Public sector funding dominates, with limited private interest. Private investors prioritize profitability when considering projects, and this extends beyond mere costs. As economist Martin Wolf noted, businesses cannot be compelled to undertake ventures they deem unprofitable after assessing risks.
One significant hurdle is land acquisition, especially in densely populated ASEAN countries. Wind and solar projects demand substantial land, often up to ten times more than fossil fuel power plants. This complexity arises from privately owned lands and the need to negotiate with local institutions or government authorities, leading to land relocation.
Obtaining project approvals is another obstacle. Investors must navigate various administrative clearances, including environmental and grid connection permits. This involves multiple regulatory bodies and fragmented systems, leading to uncertainty for investors.
An example of this challenge is offshore wind projects. ASEAN nations like Vietnam and the Philippines have enormous offshore wind potential, but supportive mechanisms are still evolving. In Vietnam, the rapid growth of solar PV capacity strained the power grid, leading to limitations on solar power generation. Bolstering grid planning and construction is crucial for accommodating increased renewable energy.
Furthermore, obstacles include delays in power market development, insufficient power-purchase agreements, foreign investment restrictions, currency exchange rate risks, and the slow evolution of local banking systems and capital markets. These factors affect the profitability of renewable energy projects and hinder the creation of appealing opportunities for investors.
China's Vital Role in ASEAN's Energy Transition
China is a significant investor in ASEAN's power sector, with over 1,400 units and 170 GW of capacity between 2000 and 2022, notably 31% of it in Southeast Asia.
China can assist ASEAN in renewable energy in three ways:
Policy and Capacity Building: China can help ASEAN create renewable energy-based power systems by offering policy support, grid integration, market design, and regulatory frameworks to align traditional power systems with renewables.
Blended Finance with Multilaterals: Collaborating with institutions like the Asian Development Bank, China can use blended finance to attract capital from ASEAN and international markets, reducing risks for private investors.
Innovative Financial Products: China and ASEAN's financial institutions can design products attractive to Chinese institutional investors, strengthening the link between Chinese capital and ASEAN's renewable energy opportunities.
For instance, the Hoa Hoi solar plant in Vietnam, developed by China Energy Engineering Corporation, is a successful blended financing model involving the Asian Development Bank and international partners, including Chinese commercial banks. These strategies foster closer cooperation and investment, benefiting the region's renewable energy sector.
Collaboration on Long-Term Sustainability Goals in Asia
The ASEAN energy transition provides an opportunity for China, Europe, and the US to collaborate in third-party markets. China's climate change envoy, Xie Zhenhua, expressed China's willingness to work together with the US, the European Union, and developing nations to address global climate change and achieve a green, low-carbon transition.
Europe and the US bring expertise in market development, capacity building, and project financing, while China excels in green industries and manufacturing. This partnership can support ASEAN's renewable energy investments, fostering industrial growth, job creation, and economic development.
These positive outcomes can encourage ASEAN policymakers to set more ambitious energy transition goals, showcase China's "soft power," expand its enterprises in global markets, and promote regional industry integration, leading to long-term prosperity and stability in Asia while advancing sustainable economic development.