The 11th Flowtech China, a key event for the industry, wrapped up successfully on June 7, 2023.
Alongside informative forums, the event buzzed with discussions and idea-sharing, highlighting the industry's growth.
Notably, the "2023 East China Smart Water High-end Forum," attended by over 250 water sector representatives, emphasized smart water management and showcased water-conservation and energy-saving practices, all contributing to the advancement of the pump, pipe, and valve industry.
Key Takeaways:
Industry Success: The 11th Flowtech China concluded successfully, reflecting industry growth and engagement through informative forums.
Smart Water Focus: The "2023 East China Smart Water High-end Forum" showcased smart water management's progress, featuring water-saving practices and fostering industry innovation.
Collaborative Advancement: Collaboration with key organizations and diverse regional participation highlighted the event's role in facilitating industry dialogue and driving meaningful progress.
The 11th Flowtech China wrapped up on June 7, 2023. This event is a crucial indicator for the pump and valve industry and has just concluded with great success. Alongside the exhibition, over 80 informative forums were held in collaboration with prominent industry organizations. The event venue was enthusiastic as participants engaged in active discussions and shared their viewpoints. This lively atmosphere underscored the vibrant growth within the industry.
Notably, the "2023 East China Smart Water High-end Forum," jointly hosted by the Shanghai Water Supply Management Affairs Center and the Shanghai Water Supply Industry Association, and supported by water associations from Zhejiang, Jiangsu, Anhui, Fujian, Shandong, and Jiangxi, took place concurrently with the exhibition. Now in its sixth edition, this forum has evolved into a vital platform for industry dialogue. In 2023, it drew the participation of over 250 representatives from the water sector across six provinces and one city in Eastern China. The focus was on in-depth discussions surrounding the application and progress of smart water management. Attendees also shared exceptional instances of water-conservation and energy-saving practices, aiming to significantly contribute to advancing the pump, pipe, and valve industry.
Event Highlights
Smart Water Innovations: Navigating Digital Transformation"
In today's digital economy, "smart water affairs" mark an advanced stage of water management, becoming the essential route for traditional water enterprises to evolve and thrive. This shift promises heightened emergency response capabilities for tasks like pipe network repairs and water quality surveillance. Riding the wave of the globally embraced "Water Ten Measures," provinces and municipalities are fast-tracking the development of smart water services. The convergence of cutting-edge technologies – IoT, big data, cloud computing, and mobile Internet – within water treatment is propelling smart water into a golden era.
In line with President Xi Jinping's vision for water control and network prowess, the forum aligns with the core of the central "14th Five-Year Plan." The focal theme, "Green and Low-Carbon Water Solutions," invites top-tier industry experts and visionary entrepreneurs to delve into pivotal industry topics. The forum emphasizes eco-friendly practices, water conservation through energy efficiency, and smart empowerment.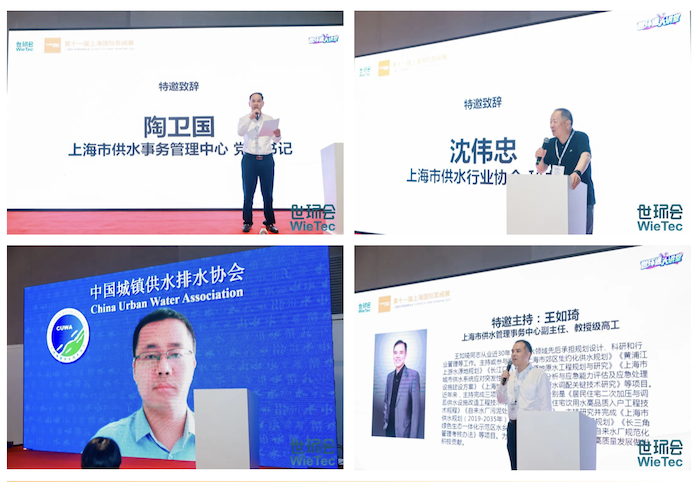 The forum kicked off with Wang Ruqi, Deputy Director of Shanghai Water Supply Management Affairs Center, as the moderator. Tao Weiguo, Party Committee Secretary of Shanghai Water Supply Management Affairs Center, and Shen Weizhong, Secretary General of Shanghai Water Supply Industry Association, delivered speeches. Gao Wei, Deputy Secretary General of China Urban Water Supply and Drainage Association, conveyed his message through a video speech. Following the speeches, the guests delved into the forum's central theme.
Navigating and Implementing 2023's Water-Saving and Energy-Efficient Technologies for Secondary Water Supply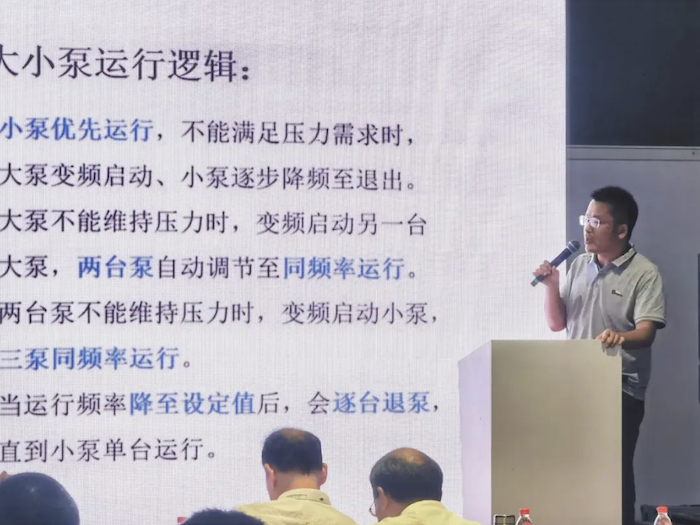 Li Haijun, the Manager of the Secondary Water Supply Department at Changzhou Universal Tap Water, delivered an insightful presentation covering two key areas: water conservation and leakage control and energy efficiency and consumption reduction. In the first part, he provided a comprehensive overview of four critical aspects: platform monitoring, energy consumption frequency, night flow, and pressure assessment, all contributing to effective water-saving and leakage control strategies. The second part delved into pump optimization, emphasizing its significance through comparisons between pump selection and actual flow, the utilization of variable frequency pumps, optimization techniques, and a case study from Jinxiu Tiandi Community.
Enhancing Leak Control Efficiency Through Digital Water Services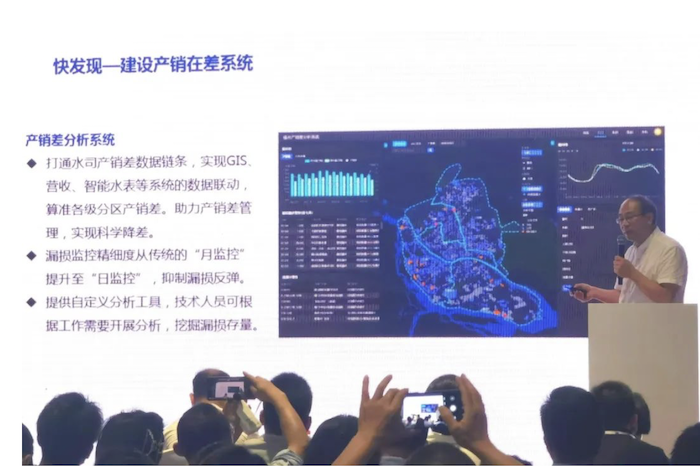 In a dynamic presentation, Xu Xingzhong, Chief Engineer at Fuzhou Water Supply, delved into effective leakage control strategies. He highlighted the impressive accomplishments in digital water management, showcasing practical applications and their significant impacts on leakage control. Xu Xingzhong closed with an inspiring quote from Ma Yun: "The surest path to progress and development in the coming decade lies in leveraging digital technology to empower traditional industries.
Measuring Carbon Emissions and Promoting Water Conservation and Emission Reduction in Water Treatment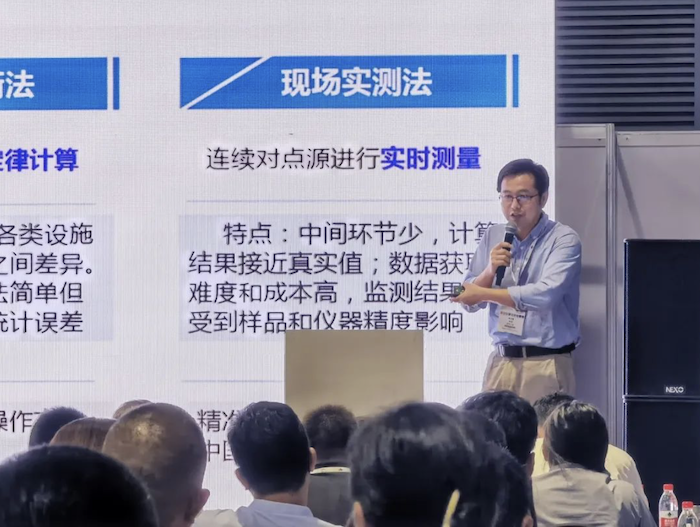 Tang Yulin, a Professor at the School of Environment, Tongji University, delved into the water industry's status amid the dual-carbon context. He introduced a carbon emission calculation method for water facilities, highlighting the need for standardized carbon accounting. Tang emphasized energy saving and carbon reduction as crucial for enhancing urban water supply system resilience. He aims to advance the "quantification of carbon emissions" to drive low-carbon transformations.
Fusing Technology and Management for Establishing a Sustainable Long-Term Leak Management System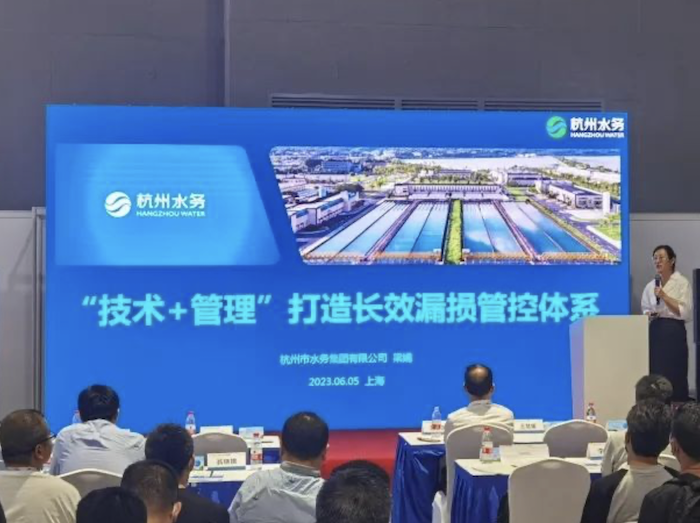 At the event, Liang Juan, a Deputy Director at the Information Technology Department of Hangzhou Water Group, delved into the current state of water leakage control in Hangzhou. She highlighted the potential for an advanced multi-dimensional intelligent leakage control system, emphasizing the importance of constructing information systems, precise water supply pressure scheduling, accurate detection of pipe network leaks, and meticulous monitoring of customer water usage. Liang Juan emphasized that effective management and control of leaks, coupled with robust administrative practices, performance incentives, and resource conservation, represent the key path toward ensuring the longevity and sustainability of these technical solutions for leakage control.
Cutting-edge Tech for Saving Energy and Achieving 'Double Carbon' Goals: How AI is Transforming Urban Water Supply Management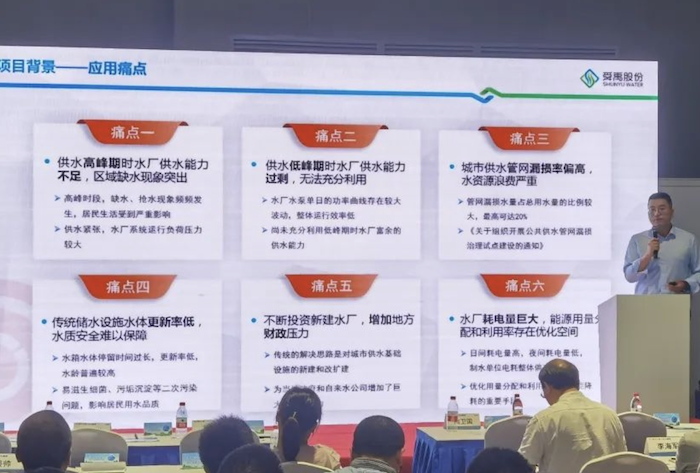 Jiang Shuai, Vice President and Postdoctoral Fellow at Sunyu Smart Water Research Institute, brought forth an innovative stride in water supply systems. The system, independently developed by Sunyu Co., Ltd., showcases an energy-saving peak-staggered intelligent approach. Harnessing the prowess of the "Dayu Algorithm," it gauges real-time water demand in target areas. With the AI model's adept learning and decision-making capacities, it orchestrates a comprehensive water supply strategy, optimizing the distribution across pipe networks and unlocking the system's maximum regulatory and storage potential.
Utilizing Groundwater Source Heat Pump Technology in Shanghai's Dual Carbon Context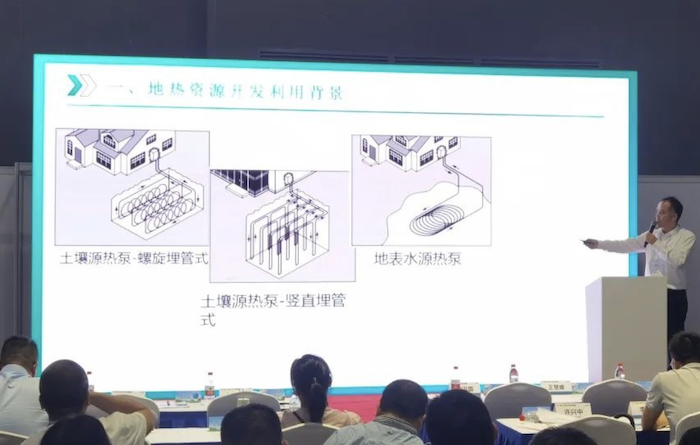 At the event, Wang Ruqi, Deputy Director and Senior Engineer at the Shanghai Water Supply Management Affairs Center, discussed the ground water source heat pump system. He highlighted its working principle and distinctive features. Through a comprehensive analysis of both domestic and international application advancements, Wang Ruqi introduced the concept of continuous long-term operation and geological environment monitoring. Drawing insights from a real-life case in Shanghai, he emphasized the system's resilience to factors like ground temperature, groundwater table, subsidence, and water quality, while underscoring its evident economic and environmental advantages.
Discover Insights at Our Industry Exchange Forum!
Join us for an engaging conference designed to foster industry-wide knowledge sharing. We aim to spread advanced industry practices, delve into smart water management applications, and exchange remarkable water and energy-saving success stories. Together, let's pave the way for impactful contributions.